Earlier this month, IAA principal Majid Amirahamdi was part of a town hall event and panel discussion facilitated by the Kemper Museum in partnership with For Freedoms 50 States Initiative. Fellow panelists included Angelique Staggs, lead vocalist with Balacobaco do Brasil, and artist and writer José Faus. Discussion focused on immigration as the panelists, all of whom migrated to the United States, addressed both personal experiences transcending boundaries and finding community, as well as broader perspectives on how the movement of people influences society and culture.
Each speaker generously offered his or her account about coming to the United States and settling in Kansas City, providing much needed discourse and engagement on an extremely important topic. The audience listened as Majid, Angelique, and José discussed these experiences with one another before answering questions from listeners.
A particularly poignant moment was when the panelists were asked whether they are able to take some refuge or perhaps assume a different voice through their artistic personas (Majid as an architect, Angelique as a singer, and José as a visual artist and writer). For Angelique, performance and music provide her a "privileged platform" where she is able to speak her truth, share her heritage and story, and "pour [my] heart out." She explained, "this is our way to make America great." Each panelist's artistic contributions enrich and contribute to this country's cultural fabric. As Majid said, it is just one of many ways in which they strive to make a human connection with those around them. It is important that those gestures are met with mutual effort from others in order to continue to learn, grow, and thrive as a diverse and unified country.
Each story was unique, but as José pointed out, there is one undeniable commonality – between the history of the three panelists, as well as every other American – regardless of ancestry. Everyone came to this country to leave behind something broken for something better, and in pursuit of the same ideals: liberty and justice for all. As José said, it is crucial that we all understand our own histories in order to realize and accept this narrative. Once we do, this country will be an even better place.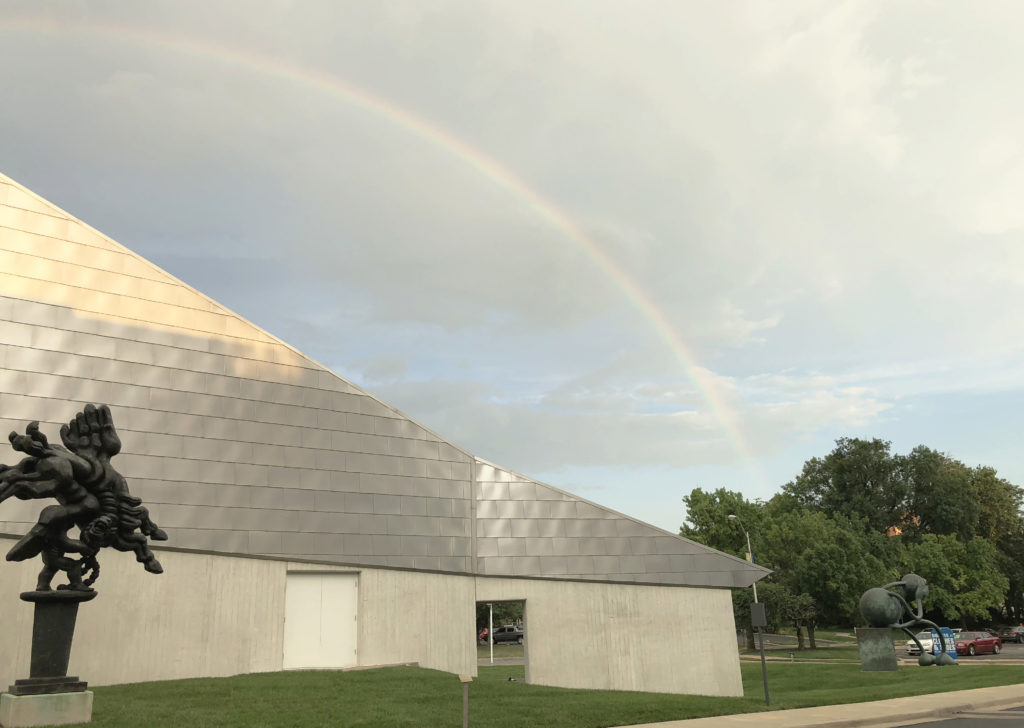 A rainbow spans the Kemper Museum following the town hall discussion on August 9.