We're excited to introduce a regular feature to our blog. Architectural intern, Blaise Cannon has been with IAA for about a month now. After returning to KC from Paris, he is reacquainting himself with the daily grind that is the American 8 to 5. Luckily for us, he's agreed to share his story about embarking on a career in architecture and design, where it's led him so far, and where it may take him in the future. Without further adieu, Blaise's first installment:
As I approach a month since my return to the Midwest after nearly nine months spent in Paris, my internal alarm clock has finally stopped insisting that the day begin at 3am or that 7:30 in the evening is an acceptable time to sleep. I am settling into my role at IAA, but it has been a twister of Midwestern proportions that has bought me to this point.
At the end of May 2015 my wife and I moved to Paris' 11th arrondissement so that I could pursue an internship opportunity at a Parisian architecture office. Being in the last year of my master's program, it was important to diversify my experience as much as possible while the relative security of academia was still in place.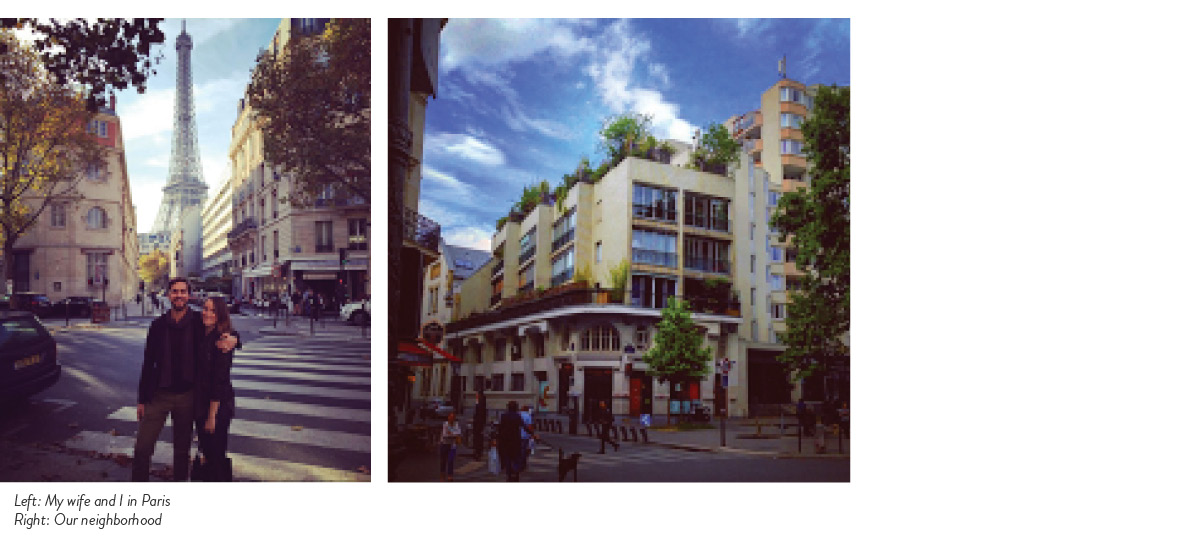 The geographical shift and the job itself put me in the necessary but sometimes unpleasant position to genuinely struggle, especially with the inevitable language obstacles. I was fortunate enough to push through these tribulations and contribute to some really exciting projects all over the world.
This scope of practice can be found in nearly any major city across the developed world; it was really the city itself that prompted us to pack up four suitcases and get on a plane. Home became an odd-shaped 23.5 sqm (253 sq. ft.) studio apartment on the 5th level (American 6th floor) of a 19th century Haussmann-style apartment block without an elevator. The 90 stairs each way were a great incentive not to forget anything you needed for the day.
Being one of the most densely populated districts in all of Europe, our neighborhood had a vibrancy and spirit that led to us quickly falling in love with it. We quickly discovered our favorite cafes, bakeries, street markets and butchers. The cultural soil of the place was so rich that we were able to put down roots more rapidly than I could have imagined.
Between our affinity for that urban experience and the option for me to finish my last semester of graduate school at the Kansas City Design Center in Downtown KCMO, it was paramount for us to establish a similar kind of life to which we had become so attached in Paris.
With these aims guiding my investigation, I pursued an internship at International Architects Atelier; just the name alone seemed to fit my search perfectly. More importantly though, I wanted an opportunity to invest and contribute to my hometown, Kansas City, becoming the best place it can be, the kind of place people move and stay.
//  Blaise Cannon